It's been a busy week in the celeb-o-sphere. (yep, that IS what I'm calling the celebrity world now). Mainly because of one thing, the one event we'd all wished we could jet off to America and go to.
COMIC-AWESOME.
Wait, what? No, I meant CON. COMIC-CON.
Jeeze I need sleep.
So what's the things I count as the biggest thing to be announced during this time?
Our delicious Superman (Henry Cavil) and Batman are teaming up to create an action packed movie of awesome - anyone else think 'Avengers Wannabe?' No? Okay just me. I mean it's not like I don't despise the idea. In fact, I think it would be awesome, I just hope they don't try
too
hard with it. And I hope that the characters would have a good story line that will bounce off each other. Like how they met etc. And not just a load of cheese like 'Oh hi Batman, I'm Superman, great to meet you, hey we kind of have similar names. Both involve 'man'.'
Just no.
The other thing of course is SUPERNATURAL news. As fas as I'm aware season 8's gag reel has been released, alas I've been too busy reading and writing to even grab a few seconds to look at it, but don't worry when I do you'll be the first to know.
Also a spin-off show was majorly hinted by the crew members, a spin-off for who? I have no clue. Part of me thinks maybe the angels, but the other part of me thinks Krissy and her whole plot was well thought out, so it seems like a lot of effort if she isn't; A, going to be in the show again, or B, isn't going to be mentioned at all.
Don't we think?
It was also Jared Padalecki's birthday during the convention. They celebrated with a cake and were merry (don't ask about 'merry', my head is about to bleurgh I swear). During his time at the con, he was photographed with Gen, his hand on her stomach. Just like Jensen previously at the PCA's when Danneel was...
pregnant
.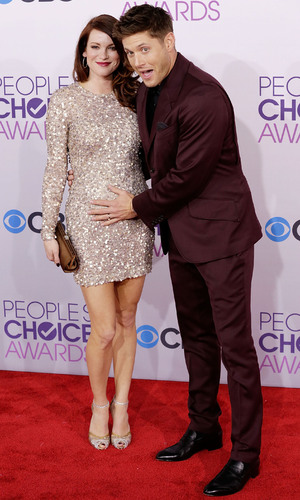 So of course the fans got talking, and ran wild with 'JUST TELL US'. Jared even copied his last move before Thomas was born, about not having enough characters to finish a tweet and tell his fans.
PFFT.
But after a painful few hours, he announced that Gen was in fact pregnant with baby no. 2. Thomas is going to be the cutest big brother EVER! Can you imagine him leading the pack? Protecting Jensen's baby girl and his own brother (EDIT: No idea why I wrote brother, but if Gen has a boy then I am obviously PSYCHIC).
CUTE.
That's the major major news I can think of. Of course every celeb has tweeted about it and posted photos etc. Especially best buddies Rob Benedict and Richard Speight Jr. I think a gimp mask was involved at some point...or did I dream that? Awks if I dreamt that.
Any news? Yank my arm - gently - and tell me.
I WANT TO BE AT COMIC CON.